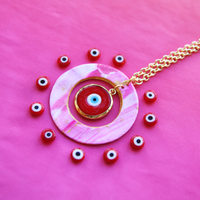 Malabi and Pomegranate Pink Swirl Evil Eye Zero Waste Necklace
This one of a kind zero waste design interweaves elements from two gorgeous wearable creations - the Malabi Swirl Statement Earrings and the Royal Pom'ayin'granate Necklace - to form a beautiful statement necklace like no other! 

Handmade custom pink, fuschia, and white clay swirl pendant is adorned with red glass and and gold evil eye, accented with gold touches, and presented on a beautiful gold eyelet chain. 

Size
Pendant is 5 cm in diameter 

Findings
Gold plated (nickel free) 50 cm length chain

All pieces are handmade from salvaged and recycled materials and may therefore contain small flaws & idiosyncrasies. 

As each piece is unique we do not accept returns.