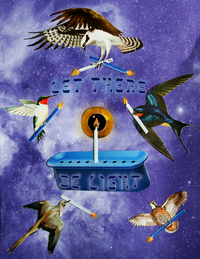 Let There Be Light Chanukah Collage Art Print and Greeting Card
This collage artwork was originally made for Chanukah 5782 which is meant to symbolise the unity of the Jewish community. Light is not something we bring into this world alone; with a single flame we can only illuminate what is directly in front of us, but with a warm flame in every hand we can illuminate the world and light the candles of resistance and perserverence together.
Made with salvaged vintage books, gold foil, and crystals, this whimsical fantasy Chanukah collage tableau will bring warmth and light to your home this holiday season. Available as an A4 art print or Chanukah card. 
Details


All art prints are 8.5 x 11" and printed on high quality thick gloss paper. 





As each print is made to order we do not accept returns.