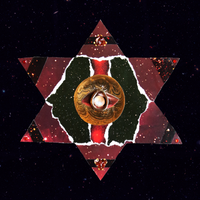 Garnet Gaze Cosmic Magen David
The Garnet Gaze cosmic magen david contains a galaxy worth of protection. Featuring hand-cut analogue collage base with red crystal and garnet accents and a custom gold nazar setting, this versatile statement piece can be displayed framed on the wall or adorning a shelf or mantel. 
Size
6 x 6"
Care
All handmade art is made from light-sensitive and delicate materials. While some smaller pieces can be displayed on a shelf or mantel, they are best displayed hung in a frame out of direct sunlight in order to preserve their beauty for generations. 


All pieces are handmade from salvaged and recycled materials and may therefore contain small flaws & idiosyncrasies. 
As each piece is unique we do not accept returns.