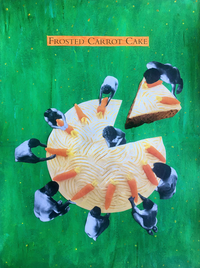 Frosted Carrot Cake Hand-Painted Analogue Collage
The commune was famous for their renowned Frosted Carrot Cake. As for the recipe?
They'd rather keep those devilish details to themselves. A conversation piece for any dinner party, this hand-painted, one of a kind showstopper makes a delicious addition to the dining room or kitchen.

Size
15 x 11.5"


Details 
Hand-painted acrylic and analogue collage, 2020, Art Lush