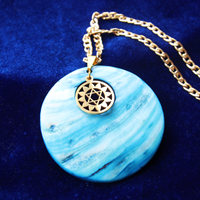 Cosmic Kinneret Golden Sunrise Statement Necklace
Adorn yourself in a cosmic slice of sea and carry the Kinneret with you wherever you go! This hand-carved and dyed shell statement necklace is finished with a gold-plated brass magen david pendant, bringing sea and sky together in a judeofuturist vision of beauty and pride. 
Pendant Size
Roughly 6 cm in diameter 

Chain Length 

50 cm
Findings

18k gold plated stainless steel (nickel free) 
All pieces are handmade from salvaged and recycled materials and may therefore contain small flaws & idiosyncrasies. 


As each piece is unique we do not accept returns.