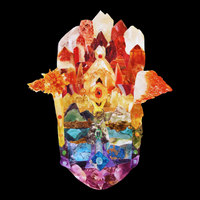 Pride Rainbow Gemstone Hamsa
Created for 2020 Pride, this gorgeous multi-faceted rainbow gemstone hamsa is dedicated to all those who are made up of many intricate and complex parts that are not always given the light and love they deserve. We are all beautiful and we all deserve to shine with the brilliance that is our full selves - complex identities and all. 
This stunning analogue collage hamsa is made up of hundreds of intricate cuttings from recycled gemstone dictionaries, and accented with corresponding crystals and gemstones from each colour in the rainbow spectrum. Much like this hamsa, we are all made up of millions of intricate, beautiful, essential parts, and without each separate piece, we wouldn't be the whole beautiful beings that we are. 
Faceted with protective energy throughout the visible colour spectrum, this hamsa offers
luminescent
strength and power wherever it is placed. 
Size

8.5 x 10"
Care
Hamsas are made from light-sensitive and delicate materials. While some smaller pieces can be displayed on a shelf or mantel, they are best displayed hung in a frame out of direct sunlight in order to preserve their beauty for generations.

All pieces are handmade from salvaged and recycled materials and may therefore contain small flaws & idiosyncrasies. 

As each piece is unique we do not accept returns.