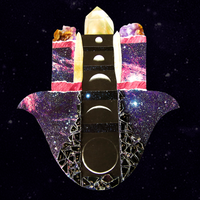 Mosaic Moon Phase Hamsa
Honour the phases and facets of the moon with this unique cosmological hamsa created entirely from found materials. Intricately assembled with cuttings from vintage astronomy books and a stunning mosaic of crystals and recycled CDs, the Mosaic Moon Phase Hamsa projects peace and power from its stunning surface. 

Size

7 x 8"
Care
Hamsas are made from light-sensitive and delicate materials. While some smaller pieces can be displayed on a shelf or mantel, they are best displayed hung in a frame out of direct sunlight in order to preserve their beauty for generations.

All pieces are handmade from salvaged and recycled materials and may therefore contain small flaws & idiosyncrasies. 
As each piece is unique we do not accept returns.