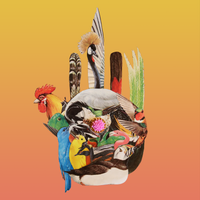 Flock of Feathers Hamsa
A gorgeous and vibrant flock of vintage paper-cuttings comprised of dozens of different birds from vintage books. The centrepiece is a pink floral bead enrobed with yellow crystals to set off the tropical hues of the hamsa. A bold and beautiful protective ornament for ornithology-enthusiasts and all to enjoy. 
Size

5 x 8"
Care
Hamsas are made from light-sensitive and delicate materials. While some smaller pieces can be displayed on a shelf or mantel, they are best displayed hung in a frame out of direct sunlight in order to preserve their beauty for generations. 

All pieces are handmade from salvaged and recycled materials and may therefore contain small flaws & idiosyncrasies. 

As each piece is unique we do not accept returns.